"Anti Hammer bladder"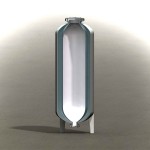 The Anti-hammer bladders (also called membranes or arrester compensator) are used in pressure vessels, tanks and accumulator to allow a variation in volume and to counter the effect of surges and to dampen schok waves. . Totally waterproof, Pronal membranes are custom made to best meets the size of the tanks they will be installed in.
Technical information
MATERIAL : Polyurethane (without fabric)
MANUFACTURING PROCESS :High frequency welding
INFLATION :
Threaded Inflating stems (¼ or ¾ BSPP – special stem on request)
Stem made from bichromated steel (standard), stainless steel option possible on request
Several stems could be provided if needed
Most of the MAB are cylindrical and are usually mounted with a top and a bottom flange.
Pronal can manufacture several bag shapes such as:
1 bar
USE :
Used with all types of oil
Inflated by air only
Can be used in addition to other lifting cushion
SECURITY :
Low working pressure
Extremely stable
Water hammer absorber: when closing a valve suddenly, you create a wave in the pipe. This wave can damage the integrity of the pipe. By using a Pronal MAB in an accumulator, you reduce the stress created by this wave.
Pulsation dampener: piston or diaphragm pumps inevitably bring about high pressure in hydraulic circuits. This pulsation either means the system runs less efficiently or that the service life of the different components is reduced. Using a bladder type accumulator near the pump will dampen oscillations down to an acceptable level
Pressure compensator: given that constant static pressure is required for shorter time periods, the use of an accumulator is absolutely necessary in order to compensate for oil leaks and drainage.
All application where there is a need of absorbing a wave…
CONTACT US !
Gallery
Pronal anti-hammer compensators implementation