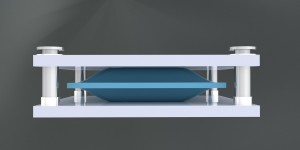 PRONAL inflatable industrial bags (also called bladders or cushions) are the ideal choice for applications that require:
- short stroke
- high thrust
- compact design
Our manufacturing process (vulcanization in an autoclave or high frequency welding) allows us to develop custom designed products to meet your requirements. The Pronal lifting bags are especially reliable due to their unique design (no mechanical parts) and provide frictionless thrust as opposed to the conventional pneumatic cylinders.
Inflated with air or other fluids (water, glycol…),  our lifting bags can be used to perform the following functions:
Advantages
More uniform force distribution compared to hydraulic / pneumatic cylinders
Depending on the type, the Pronal lifting bags are generally less than 20mm / 0.78" thick. This simplifies the machine design.
Due to their design, the Pronal inflatable lifting bags are maintenance free and have a life expectancy of up to 10 years or more.
We use high performance rubber coated fabrics allowing us to reach safety coefficient (bursting pressure) of 3 times the operating pressure at a minimum.
Only a simple air supply is required to operate the lifting bags. Depending on bag dimensions, only a few seconds are required to fully inflate the bags.
Pronal can manufacture several bag shapes such as:
Gallery
---
Another way to discover PRONAL…
Take a virtual tour at www.pronal360.com ! 

or visit our general website www.pronal.com