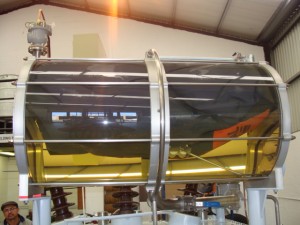 The EXP bladders (compensators) consist in separating the hydraulic fluids contained in a tank from the atmosphere by means of a synthetic rubber bladder. This rubber bladder is located either inside or outside the tank. The material used is a high resistant textile fabric coated on both sides. It resists to oils and against ozone attacks.
Pronal compensators prevent from emulsion of air in the oil, condensation in the tanks, air/oil contact which causes oxidation, pollution of the oil by dust particles likely to score the cylinders.
Technical information
MATERIAL : NBR rubber coated fabric
MANUFACTURING PROCESS : Vulcanization under vacuum in an autoclave
 INFLATION :
Threaded Inflating stems (¼ or ¾ BSPP – special stem on request)
Stem made from bichromated steel (standard), stainless steel option possible on request
Several stems could be provided if needed
Pronal can manufacture several bag shapes such as rectangular, square or cylindrical.
EXP works in equi-pressure, meaning the pressure inside the bladder will be the same as the one inside the tank
Prevention of emulsion of air in the oil / condensation / air-oil contact and pollution of the oil
Elimination of turbulences in hydraulic pipes / risks of leakage
Standard dimensions
Gallery
Pronal EXP compensators implementation