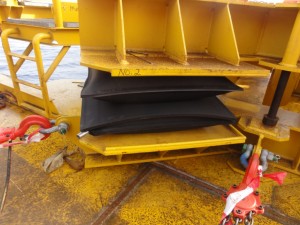 For applications requiring large lifting forces, Pronal offers special high pressurelifting bags with inflation pressures of up to 30 bars / 435 PSI.
The vulcanization process makes the final product homogeneous which guarantees long service life ( more than 10 years in some cases)
Technical information
NPVC rubber coated fabric

UV resistant
Ozone resistant
As an option we can also offer:
FDA rubber coating
EPDM coating
High temperature resistant coating – for temperatures up to 140°C / 284°F
Vulcanization under vacuum in an autoclave

-          Dimensional Restrictions:
Square models : 2500 * 2500 mm / 98.5" x 98.5"
Rectangular models : 5500 * 2500 / 216.5" x 98.5"
Circular models : dia. 2500 mm/ 98.5"
Due to the assembly process, there is a "dead area" (no inflation zone) located around the edges of the lifting bag. This dead area must be deducted from the working surface of the bag before calculating the applicable lifting force.
Inflation:
The inflation stem can be placed on the face or the edge. If on the edge, a short tube of copper with a quick connect coupler at the end will be provided; or an integrated steel insert where a stem will be mounted.
Note : The inflation stem located on the edge will increase the "dead area" dimensions.
Special stem on request.
Miscellaneous:
Pronal can manufacture several bag shapes such as:
---
Other shapes on request.
Available in up to three stages: (K1 = square 1 stage / K2 = square 2 stages /K3 = square 3 stages
Up to 7 bars / 101.5 PSI as standard
Up to 30 bars / 435 PSI on request
Stone block tipping over
Char or vehicle dig out
Pressing wood panel for parquet manufacturing
…
CONTACT US !
Gallery
Pronal very high pressure lifting bags implementation