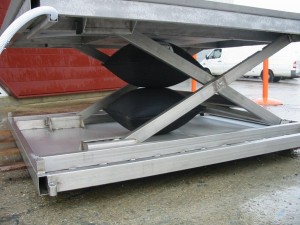 For applications with high required forces (and therefore very high inflating pressure), Pronal offers 7 bars inflating pressure bags 
Made from rubber coated fabric and vulcanized under vacuum in an autoclave, the Pronal HP bags could be inflated up to 7 bar while remaining relatively thin (18mm). The vulcanization process makes the final product homogeneous and guarantees a long lifetime. (more than 10 years in some cases)
Technical information
NPVC rubber coated fabric

UV resistance
Ozone resistance
In option, Pronal can propose:
FDA rubber coating
EPDM coating
High resistance temperature coating (up to 140°C)
Vulcanization under vacuum in an autoclave

- Dimensions restrictions:
Square models : 2500 * 2500 mm
Rectangular models : 5500 * 2500
Circular models : Ø 2500 mm
Because of the assembly process, a "dead area" (= no inflation zone) will be located all around the bag. This dead area has to be deducted from the surface of the bag before calculation of the applicable force.
Inflation:
The inflation stem can be placed on the face or the edge. If on the edge, a short tube of copper with a quick connect coupler at the end will be provided; or an integrated steel insert where a stem will be mounted.
Note : The inflation stem located on the edge will increase the "dead area" dimensions.
Miscellaneous:
Pronal can manufacture several bag shapes such as:
---
Max 3 stages (K1 = square 1 stage / K2 = square 2 stages/ K3 = square 3 stages …)
Other shapes upon request.
7 bar maximum
Lifting bag tensioner
To lift and move a load
To maintain parts during a vulcanization process
Tipping over a bucket
Clamping complex shaped parts
CONTACT US !
Gallery
Pronal high pressure lifting bags implementation: